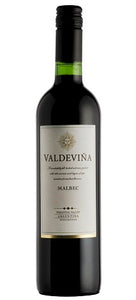 2021 Valdevina Malbec, Vinas Riojanas, La Rioja, Argentina
Famatina Valley has become the most famous wine region of the province of La Riojana (North West Argentina). Situated between 800 to 1,400 metres above sea level, the climate is dry, relatively windy, and the terrain is dominated by sandy alluvial soils. Farming in this remote, semi-desert area, between two mountain ranges, means that the weather conditions are harsh for humans but ideal for growing grapes. There is very low rainfall and good sun. The passion behind the growing and wine making drives the quality of this wine.

Deep coloured with aromas of violet, plum and blueberry. Rich and full on the palate, with sweet fruit and ripe tannins.

Food recommendation - Chargrilled or roasted meats. Smoked sausages.
---
Share this Product
---
Recommendations you may also like