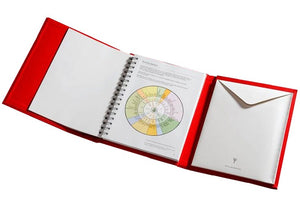 Wine Journal
This innovative product, with a real difference, is something that is both educational and enjoyable to use.

It includes:

•15 Wine Label Removers (that can each be cut into two pieces) which allow the user to quickly remove the label from favourite wine bottles without messy soaking.

•A detailed review of the main grape varieties together with their origins and characteristics.

•A step by step account of the wine making process.

•An interesting glossary of wine terminology.

•The Aroma Wheel, known throughout the trade, enhancing the ability to identify and describe the complexities of wine.

•52 double pages of tasting records.

•All presented in a beautiful quality, heavy weight, double gate cover embossed 'The Wine Journal'.
---
Share this Product
---
Recommendations you may also like