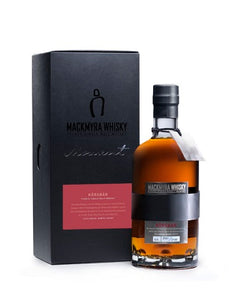 Moment Korsbar, Mackmyra, Single Malt Whisky, Sweden
The pink color of this whisky comes from finishing on casks that previously stored sweet cherry wine. The result is an elegant whisky with notes of vanilla, fruit, spicy oak, sweet cherry and berries.
On the nose there are lovely Fruity and spicy notes with sweet cherry, Oloroso Sherry, warm pear fudge, vanilla and toasted oak.
The palate has round notes of oak. Spiciness and pro- minent notes of cherry together with Oloroso Sherry, ginger, herbal spiciness and vanilla. The texture is smooth and medium thick. The aftertaste is long, fruity and spicy aftertaste with cherry, Oloroso Sherry and toasted oak.
Mackmyra Moment is a series of whiskies from their most exclusive casks, handpicked by Master Blender Angela D'Orazio. Each edition comes in a distinguished black carton with a specific colour scheme and a modern bottle design with an engraved metal plaque.
Since the number of casks per bottling are so few, the editions in the Moment series are very limited. The first editions to be released were Moment Medvind and Moment Urberg that where launched on 15 December 2010 in the exclusive range at the Swedish monopoly store Systembolaget.
Since then, several unique Moment editions have been released.
---
Share this Product
---
Recommendations you may also like