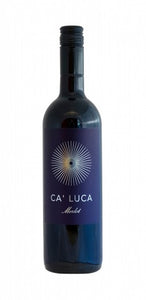 2019 Merlot Ca` Luca, Casa Vinicola Botter, Fruili, Italy
An intense bouquet with a rich variety of currants and spices. These fruity aromas combine with notes of freshness and soft tannins. On the palate the fruit flavours of blackcurrants, plums, bramble fruits and vanilla expand to create a wine with excellent balance between the various components. Long lasting in the mouth ending with pleasant fruity aromas.
12% ABV. A wine suitable for the most demanding of meals. It is particularly good with roast pork! Suitable for Vegetarians and Vegans.
The company was born as a retailer in 1928 in the Veneto region for sales of wines in casks and demi-johns to restaurants and small retailers. In the fifties the family expanded their horizons to selling wines across Central Europe and beyond. Throughout all this expansion, the Botter family retained control and the company is now run by the third generation and from their roots in Veneto they now have a portfolio of wines produced in some of Italy's finest regions.
---
Share this Product
---
Recommendations you may also like