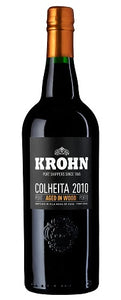 2010 Krohn Colheita, Douro, Portugal
Sale price
£24.95
Regular price
£29.95
Krohn are famous for their elegant tawny Colheitas. Rich dried fruit and fig characters on the complex palate with notes of spice and balancing, fresh acidity.
 Enjoy with semi-soft creamy cheese such as Brie or Camembert or with crème brulée.
Wiese & Krohn was founded in 1865 by two Norwegians - Theodor Wiese and Dankert Krohn. Long renowned for the quality of their sublime Colheitas (single vintage tawnies), they produce a remarkably complete range for a small house and each wine excels in its category. The Quinta do Retiro Novo estate in Sarzedinho, in the Rio Torto valley, is all A grade vineyard. Vinification takes place here, with some of the top wines still being trodden by foot. Since 2013 Krohn has been part of the Fladgate Partnership - alongside Taylor's, Fonseca and Croft.
Suitable for Vegetarians and Vegans.
1 Bottle remaining - In Wooden Box.
---
Share this Product
---
Recommendations you may also like