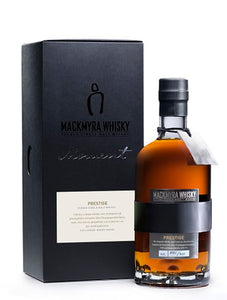 Moment Prestige, Mackmyra, Single Malt Whisky, Sweden
Moment Prestige is an eleven year old whisky aged on casks of French oak that previously held wine from the artisinal Champagne producer Philipponnat.
When making Champagne, Philipponnat only uses the finest grapes, mainly from Premier and Grand cru vineyards, and then let parts of the wine age on oak casks. To the whisky, these casks bring crisp notes of white wine, grapefruit, bread and toasted oak.
The youngest part of the whisky has been aged between the years 2006 – 2017, and the oldest part, which makes up 40% of the total volume, was aged between the years 2004 – 2017.
Nose
Fruity, vinous notes and a herbal spiciness together with vanilla, toasted oak, pear fudge, warm grapes, white pepper, anise, ginger and cardamom.
Taste
Oak and prominent notes of white grapes and grapefruit. Spicy and herbal notes of eucalyptus, anise and vanilla. The texture is medium thick. The aftertaste is long with tangible vinous notes of champagne that's moving towards dry notes of oak.
 46.1% ABV.
Mackmyra Moment is a series of whiskies from their most exclusive casks, handpicked by Master Blender Angela D'Orazio. Each edition comes in a distinguished black carton with a specific colour scheme and a modern bottle design with an engraved metal plaque.
Since the number of casks per bottling are so few, the editions in the Moment series are very limited. The first editions to be released were Moment Medvind and Moment Urberg that where launched on 15 December 2010 in the exclusive range at the Swedish monopoly store Systembolaget.
Since then, several unique Moment editions have been released.
---
Share this Product
---
Recommendations you may also like