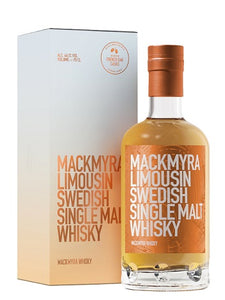 Limousin, Mackmyra Whisky, Sweden
"Nose: Fruity, with notes of sweet and citrus fruits. Distinct vanilla with dried fruit, prune and orange zest.
Taste: Round taste with vanilla caramel, dried fruit, sweet almond and dark chocolate. A light spiciness from the oak, with light sour grape tones, ginger and matured pear.
Aftertaste: Vinous, sun-ripened grapes with oak notes and soft pear caramel.
Forever captured by artists and photographers alike, the magic of the golden hour over the French countryside is the inspiration for Mackmyra Limousin. A fruity, playful, gently-balanced Swedish single malt whisky, predominantly seasoned with French Oak casks that previously held Cognac from sun-kissed grapes." Mackmyra
---
Share this Product
---
Recommendations you may also like