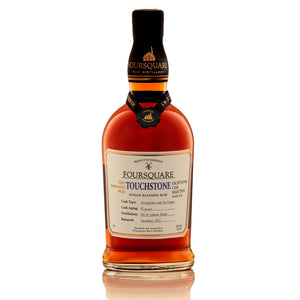 Foursquare Touchstone, Fine Barbados Rum, Exceptional Cask Selection Mark XXII, Barbados
Nose: An engaging riot of ripe mango skin, tart Victoria plum, crisp white pear, and parsnips. Seville orange oils, and green sugar cane bark. Bourbon vanilla, gentle toffee and butterscotch. Leather, freshly shelled hazelnuts, dried coconut, and gentle notes of fabric sticking plaster.
Palate: A soft, juicy fruit bite onto the palate. Packed full of red grapes, dried pineapple, and strawberry jam. Rose Turkish Delight, and juicy sultanas. Delicate caramel and black tea. Tart and lip smacking. Finish: A soothing delivery of chewy honeycomb sweetness, green walnuts, cumin powder, more Seville orange oils, delicate eucalyptus, all intertwined with a delicate oak grip, that reveals the long years of maturation at Foursquare.
Overall: This is a Rum to take your time with. It opens, and engages, and draws you in. Genuinely difficult to put down once you've a glass of TOUCHSTONE in hand.
Tasting Notes by Peter Holland, Foursquare Brand Ambassador (UK)
AVAILABLE ONLY WHEN PURCHASED WITH A BOTTLE OF FOURSQUARE DOORLYS RUM (14YR or 12YR)
---
Share this Product
---
Recommendations you may also like