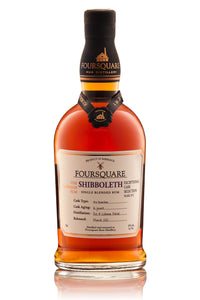 Foursquare Shibboleth, Fine Barbados Rum, Exceptional Cask Selection Mark XVI, Barbados
Foursquare Shibboleth is the sixteenth release (Mark XVI) in the Exceptional Cask Selection (ECS) series. A sixteen-year-old Rum matured entirely in ex-bourbon cask American white oak at Foursquare Distillery located in the parish of St Philip, Barbados.
Presented at 56%ABV, this Rum declares a strong statement against the erroneous assumptions made by some commentators that long tropically aged Rums are 'over-oaked and past their best'. Laid down with long maturation in mind, this beautiful Rum represents a sipping experience quite unlike any other. Soft and creamy in the mouth, packed with tropical and summer fruit notes, and with a gentle grip and peppery finish, this is truly a joy to experience. Shibboleth provides first-hand confirmation that in the hands of an experienced Rum producer, the long years of maturation at source cannot be beaten in terms of both taste and authenticity.
Depicted in purple, the name Shibboleth is a nod to the previous non-Vintage ECS release in the form of Nobiliary. This release also challenged perceptions and provided a delicious counterpoint to the award-winning Vintage series.
This Single Blended Rum is a blend of Rums distilled in the copper double retort pot still and the continuous twin column still of Foursquare Distillery.
Shibboleth has not been chill filtered, and so some cloudiness may occur. This is Authentic Rum, no sweetener, other flavour or colour has been added.
"Nose: Perfumed notes of white pepper, vanilla pod, raisins, sultanas, pineapple, with hints of turmeric, and eucalyptus combine with heavy Rum notes of burnt rubber and tarmac.
Palate: Soft, sweet, and vanilla-creamy onto the palate. Packed full of ripe mango, caramel, golden syrup, and a gentle, sweet anise note. Mouth-filling.
Finish: All the lovely summer, tropical fruit notes give way to a long-lasting peppery finish packed with baking spices and a heady desire to reach for another measure." Peter Holland, Foursquare Ambassador
---
Share this Product
---
Recommendations you may also like