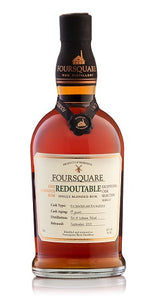 Foursquare Redoutable, Fine Barbados Rum, Exceptional Cask Selection Mark XV, Barbados
Foursquare Redoutable is the fifteenth release (Mark XV) in the Exceptional Cask Selection (ECS) series. A cask blend of fourteen year old ex-bourbon American white oak, and fourteen year old first fill ex-madeira. Presented at 61%ABV, this 'formidable' release really is worthy of respect as the name would imply. In keeping with the untouched nature of the cask strength ECS releases, Redoutable is non chill filtered, and free from added colour, sweeteners, and other flavourings. When the name of the bottling is shown in green text, it would indicate a full strength, limited release of a blend of cask types in the ECS series. This release is the successor to Nobiliary, and compliments the previous rare series Détente (with the name shown in red), and 2008 Vintage release (coloured blue on the label). Redoutable has a very limited global release.
"Nose: A wonderfully complex, captivating and developing nose of black tea, cocoa powder, dried orange peel, medjool dates, dried vanilla pod, dark cane sugar, salted caramel, and brazil nuts. A hint of cardamom pods and coriander seeds.
Palate: A luscious, silky rush of tangy candied pineapple, and baked spiced apple tart collide in a warming embrace. Prickly, peppery, and revealing a delicate menthol note.
Finish: A lasting fade of dried fruit and spices into the smoke and char of the cask.
Overall: Give this fabulous Rum time to breathe and you'll be rewarded with a captivating sip that evolves and develops." Peter Holland, Foursquare Ambassador 
---
Share this Product
---
Recommendations you may also like