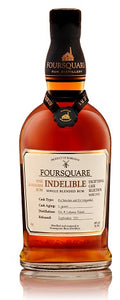 Foursquare Indelible, Fine Barbados Rum, Exceptional Cask Selection Mark XIII, Barbados
'Not to be forgotten'!
 Foursquare Indelible is both the eighteenth release (Mark XVIII) in the Exceptional Cask Selection (ECS) series and a long awaited return to the Zinfandel casks that followers of the brand have been eagerly awaiting for the past six years.
AVAILABLE ONLY WHEN PURCHASED WITH ANY BOTTLE OF FOURSQUARE DOORLYS RUM (XO,12 or 14YR)
 The connection to the ECS Mark IV release runs deep. The original bottling contained a dual maturation of a five year old ex-bourbon cask American white oak Rum, that was given a further six years in ex-Zinfandel cask from a Californian winery. A portion of that dual maturation remained unutilized from the original bottling, and has now been used to great effect in Indelible, in that it is now blended with a different eleven year old ex-bourbon cask matured Rum to echo its predecessor. Presented without chill-filtration at 48%ABV, it is at once familiar, and yet an entirely new experience.
 Indelible is a Single Blended Rum, in that it is a blend of heavy and light marques Rums distilled in the copper double retort potstill and the continuous twin column still of Foursquare Distillery, free from sweeteners and other flavourings. Matured and bottled at Foursquare Distillery, Barbados.
Nose: A riot of rich strawberry conserve, zesty clementine, dried tart pineapple and victoria plums, gentle bourbon vanilla, and sultanas. Shelled walnuts, gentle notes of dried coconut, leather, hints of crispy bacon, leather, and the crunch of autumn leaves.
Palate: Tart and zingy. Slightly under ripe juicy black cherries, rich orange marmalade, plump raisins, with a gorgeous oily mouthfeel. Maple syrup. Dried hazelnuts, gentle notes of ginger and a delicate menthol note.
Finish: Crisp, yet lingering. Tart toasty oak, plenty of chewed pencil, and a hint of roasted parsnips at the end.
Overall: This fine aged Rum takes you one heck of a journey and rewards you for the time taken. Familiar, yet notably different from its Zinfandel Cask ECS Mark IV predecessor, Indelible is the embodiment of the blenders craft.
Tasting Notes by Peter Holland, Foursquare UK Brand Ambassador
---
Share this Product
---
Recommendations you may also like