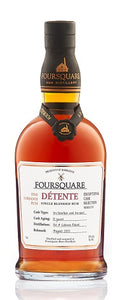 Foursquare Detente, Fine Barbados Rum, Exceptional Cask Selection Mark XII, Barbados
Foursquare Detente represents the latest release from Foursquare Distillery, Barbados.
The fourteenth bottling (Mark XIV) in the Exceptional Cask Selection, continuing the Rare series that has featured the award-winning, critically acclaimed Premise, Zinfandel Cask, and Port Cask.
AVAILABLE ONLY WHEN PURCHASED WITH ANY BOTTLE OF FOURSQUARE DOORLYS RUM (XO,12 or 14YR)
This release is a Single Blended Rum, in that it is a blend of Rums distilled in the copper double retort pot still and the continuous twin column still of Foursquare Distillery. More specifically, Détente is a blend of single and double maturations: Ten year old ex bourbon cask Rum, blended with four year old ex-bourbon cask Rum that has been given a second maturation for six years in old ex-port casks. This careful maturation and blending results in a complexity that will captivate both novice and those who have come to expect excellence from the team at Foursquare Distillery.

Presented at 51% alcohol by volume, without chill-filtration, at its natural colour, and free from sweeteners and other flavourings.
Foursquare Détente offers a captivating drinking experience, complex and evolving, and balanced in its delivery.
A truly excellent Rum that you would want to return to time and again.
Nose: A huge rush of sweet jammy fruit, ripe plums, loganberries, and blackcurrants. Gentle hints of rosemary, delicate red roses, plump sultanas, maple syrup, pecans, and brazil nuts. Light notes of peppery celeriac, fresh ginger, and cacao.

Palate: An initial rush of raspberry jam quickly becomes a lovely slice of fruitcake full of plump dates and walnuts.

Finish: Warming, but leading seamlessly into a tangy, prickly, black pepper spice that develops into a gentle smokey, finish of astringent black tea and oak.
Overall: Rose-tinted memories of tots previously enjoyed will add anticipation to the first sip. A sip that doesn't fail to disappoint, and that surely leads to another. You may be forced to put the bottle out of reach to ration the pleasure for another day.
---
Share this Product
---
Recommendations you may also like