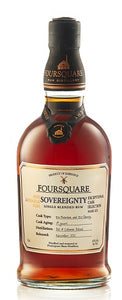 Foursquare Sovereignty, Fine Barbados Rum, Exceptional Cask Selection Mark XIX, Barbados
Foursquare Sovereignty is the nineteenth release (Mark XIX) in the Exceptional Cask Selection series and a bottling that marks Barbados becoming the world's newest republic. This auspicious occasion has been celebrated by the Foursquare team as they have drawn on some of the distillery's oldest Rums.
This complex release has been crafted from a complex maturation bill. A three year old ex-bourbon cask Rum was then matured for a further eleven years in old, refill sherry casks. This dual maturation was then further blended with a fourteen year old ex-bourbon cask matured Rum. Presented at 62% ABV, this stunning Rum continues to reflect the excellent work that the award-winning team at Foursquare Distillery are known for.
The Sovereignty rear label bears the following quotation that befits the dawn of Barbados' new era.
"In the season of the republic, it is time for Government to back its national economic champions over foriegn multinationals, and to claim its oldest and most distinguished industry for the nation" - Prof. Richard Drayton
Sovereignty is a Single Blended Rum, in that it is a blend of heavy and light marques Rums distilled in the copper double retort potstill and the continuous twin column still of Foursquare Distillery, presented free from sweeteners and other flavourings. Fully matured and bottled at Foursquare Distillery, Barbados.
Only available when purchased with a bottle of Doorly's 12 or 14 Rum.
"Nose: A complex combination of blackberry preserve, victoria plums, over-ripe banana, and dates. Zesty lemon peel, cocoa powder, rich caramel and toffee. Delicate ginger cake.

Palate: Soft and sweet onto the palate. Tart and lip smacking. Lots more of the blackberry preserve, with ripe papaya and tamarind. Turkish Delight. Anise, and soft chewy licorice sweets. Another slice of gingerbread and fresh walnuts.
Finish: Warming. Lots of grip that lingers long. Pimento and green tea. Licorice and bitter dark chocolate.
Overall: Gloriously oily in the mouth, with a jammy sweetness and layer upon layer of delicious detail to explore. Ensure you set aside some time when you pour a glass of this work of art in liquid form.
Tasting Notes by Peter Holland, Foursquare UK Brand Ambassador
---
Share this Product
---
Recommendations you may also like