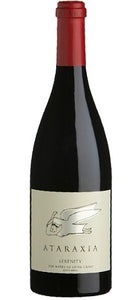 2020 Serenity, Ataraxia, Hemel-en-Aarde, South Africa
Sale price
£19.95
Regular price
£22.95
27% Pinot Noir/ 24% Cinsault/ 49% Pinotage. Lively aromas with hints of black fruits, vanilla and spice. Elegant tannins and a balanced muscular palate that has an Intriguing  and lingering finish. A "Pinot Noir on steroids"!
13% ABV. 92 Points - Tim Atkin. 
Ataraxia is a boutique South African winery founded in 2004. In partnership with a few friends husband and wife team Kevin and Hanli purchased 50 hectares of prime vineyard land. Ataraxia is situated in unique landscape, known as The Skyfields – lying as it does on the most elevated section of the Hemel-en-Aarde area. Nestled on this commanding rise beneath the soaring BabylonsToren mountain range, the vineyards are planted on some of the most spectacular terroir South Africa has to offer. It is a place where wines of incredible finesse, balance and depth are crafted – proudly holding their own in the international arena.
The name ATARAXIA is "a term used to describe emotional tranquillity" explains Kevin, "or in more expanded terms, the freedom from disturbance that characterises a balanced mind and constitutes its first step towards the achievement of pleasure. It's really about conveying the very essence of what drinking good wine does for us and not to us as human beings."
Kevin Grant is a pioneer winemaker in South Africa, whose wines offer a minimalist, non-interventionist winemaking approach, geared to reflect sense of place and expression of terroir. 
---
Share this Product
---
Recommendations you may also like